Joz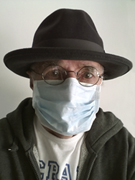 ef Ort-Snep is a cinematographer born in 1939 in Slovakia.
He discovered photography at the Applied Arts School of Bratislava then moved to Prague to study Cinematography at the renowned FAMU (Film and TV School of the Academy of Performing Arts) where many famous Czechoslovak New Wave filmmakers also attended.
In 1963 he shot his graduation movie "Moravian Hellas" which deals with the overtaking of the popular culture by the communist regime for propaganda purposes. With the same movie director Karel Vachek he shot a long documentary film "Elective Affinities" about "Prague Spring" in 1968. He then filmed six Czechoslovak feature films and 50 documentaries about art, society, nature and architecture. His most renowned movies include "The Most beautiful Age", "Behold Homolka" and "Hogo Fogo Homolka", directed by Jaroslav Papousek – who had previously worked as screenwriter for Milos Forman. In 1968 he filmed the invasion of Czechoslovakia by Russian troops, the tapes were sent West through embassy channels to raise awareness abroad.

After many of his movies being forbidden, intimidation from the secret police because of his taking pictures at the funeral of the speaker of the "Chart 77" professor Jan Patocka and several friends leaving for the west, he sought asylum in France in 1980, before moving to New York for two years living off odd jobs.
In 1983 he went back to France for good, worked as part-time lecturer in Photography at La Sorbonne and Jussieu University. He shot several movies most notably the Oscar nominated "Angry harvest" with Anezka Holland, and as second unit cameraman on "The unbearable lightness of being" with Philip Kaufman and "Valmont" with Milos Forman.

In 2009 he travelled to Japan and was amazed by the beauty of the Buddhist Zen Gardens of Kyoto. This was followed by thorough study of the subject and six further trips to Kyoto. He has created a meaningful collection of photographs with the intent of sharing his passion with the greater number. In 2010, part of the collection was exhibited in Bratislava during the European Month of Photography.
COPYRIGHT
The photographs displayed on this website are not for sale and shall not be used for commercial purposes
CONTACT

Feel free to reach out if you have questions about Kyoto, the gardens or the photographs